These are Team Hell's pride and joy, our fighting robots:
HELL'S ANGEL
This is Hell's Angel, my featherweight. It is currently undergoing a rebuild. Below is a picture of Hell's Angel as it currently looks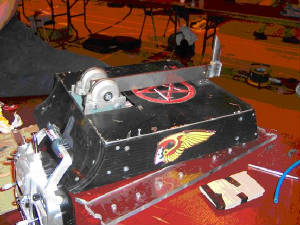 Statistics:
Name: Hell's Angel
Weight: 12kg
Dimensions (LWH): 54x49x10 cm
Speed: 12MPH
Weapons: Pneumatic rotary ram-operated axe operating on 145psi
Power: 2x Team Whyachi TWR18 motors on 24v each
Armour: A combination of 3mm aluminium (base and top), 10mm High Density Polyethelene (HDPE) for the sides and back and 5mm HDPE for the scoop
SATANIX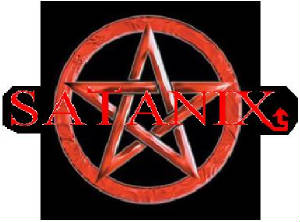 Satanix, the latest addition to Team Hell is by no means the bottom of the pile. Satanix is now powered by a pair of Graupner Speed 900's running off 18v, through a 6:1 gearbox and is clad all the way over in 4mm Steel which makes it a real bruiser in battle. Its armed with a pair of 5" spikes welded on the back for aggressive ramming.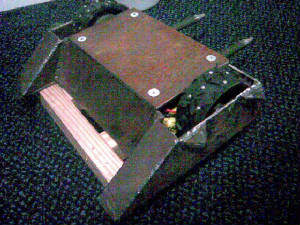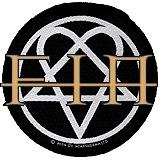 F.I.N (Four-Inch Nails)
This is one of my 3 antweight class robots, Four-Inch Nails, or F.I.N as its known. F.I.N is a 2-wheel drive robot that spins on the spot and uses the four inch steel nails on either end of the robot to inflict damage on other robots. Its very fast, but also a little uncontrolable. Its soon to undergo a rebuild with more weight concentrated on the outside to produce more of a flywheel effect.
New Statistics:
Name: Four-Inch Nails (F.I.N)
Weight: 150g
Dimensions (LWH) 4" x 5" x 1"
Speed: Too bloody fast :P
Weapons: 2 x double ended stainless steel bars mounted in the ends of the robot
Power: 2x 50:1 Precision Micro Drive geared motors @ 11.1v
Armour:1 -4mm polycarbonate
UPDATE: After a bout with Zenith, F.I.N has been fitted with a pair of titainium blades at the front which will enable F.I.N to get under robots and push them around instead of riding up them with a high ground clearance. These blades also help protect the electronics, which Zenith got uncomfortably close to.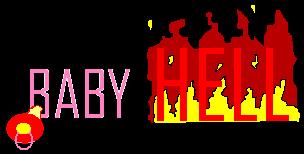 BABY HELL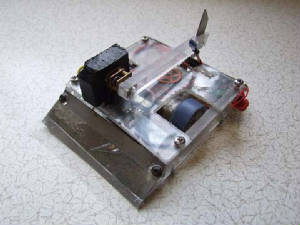 This is my second antweight, Baby Hell. Unlike F.I.N, Baby Hell has an active weapon, in the form of a Precision Microdrives 50:1 motor powered axe, which is very quick, if perhaps not very powerful. Baby Hell has given me a lot of problems with space inside, which is why the battery and receiver were on top during its first appearance at Antweight World Series 19 (see new gallery website). Due to it being very underweight, I added a beefier controller for the axe as the last one burnt out.
Statistics
Name:Baby Hell
Weight: 145g
Dimensions (LWH) 5" x 4" x 1"
Speed: Unknown
Weapons:Precision Micro Drives 50:1 gear motor operated axe
Power: 2x Precision Micro Drives 50:1 gear motors on 7.4v
Armour:6mm polycarbonate, 2mm polyproperlene and .6mm Titainium, and some HDPE thrown in for good measure :)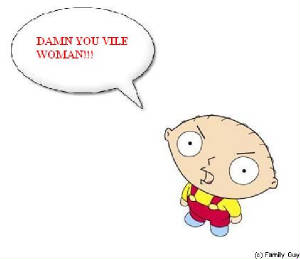 STEWIE
Stewie is one evil baby ! Stewie is my 3rd antweight and weighs in at 147g, armed with a HPXF powered flipper. The Idea was thought up shortly after AWS 19 after watching Family Guy(c) with Dave Lawrie (Owner of Marabunta the 5th, Parasitic Land Snail and The Pin to name a few), and due to Stewie's evil nature, I thought it fitted in well with the fighting robot theme.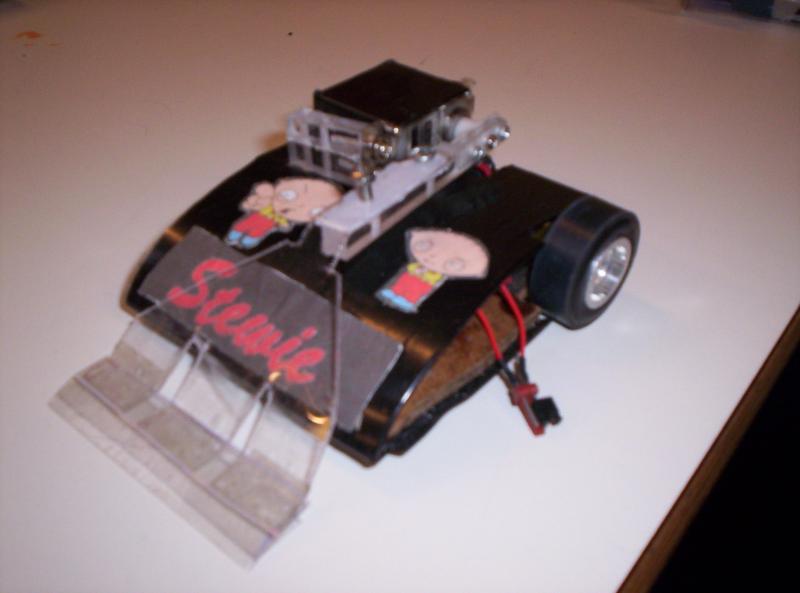 Name:Stewie
Weight: 147g
Dimensions (LWH) 5" x 4" x 1.5"
Speed: Fast!
Weapons: HPXF Park flyer servo powered flipper
Power: 2x Precision Micro Drives 50:1 geared motors
Armour:3mm MDF, 1mm Polycarbonate
UPDATE: Stewie has had a new grip fitted to the tyres to prevent it drifting and to give it more pushability when fighting the rambots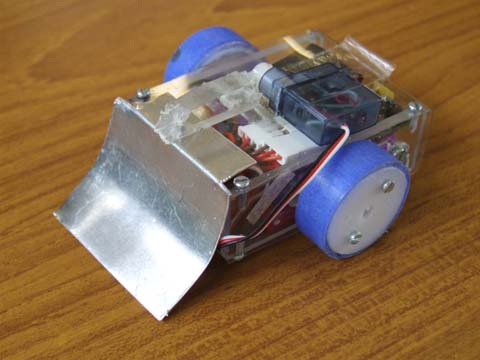 Little Devil is Team Hell's lastest edition, in the form of a fleaweight (75g or under). Little Devil uses Li-po batteries and a pair of Bluebird BMS-306 6g servos for drive power and a Tower Pro 5g servo to operate a aluminium lifter mounted in the front wedge, which will soon be replaced by a Titainium version