Hell's Angel's control system:
This is a circuit diagram of Hell's Angels operating system. This diagram shows possible positions of fuses, which are in place to avoid the speed controllers getting burnt out. the fuse bank nearest to the batteries is there to save the batteries AND NOTHING ELSE, the fuses by the motors save the speed controllers.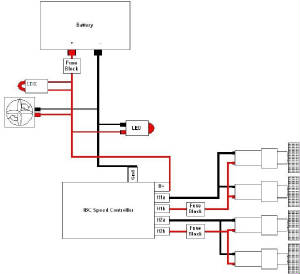 OVER VOLTING A ROBOT:
Over-volting a motor will give a robot more speed and power than the motor will on its recomended voltage, however, the motors/servos will get very hot if run for a long time, but since fights only last 3 mins, they should be ok, but don't over-do it. There are some incidences where a higher voltage is required on one system but not on another, such as weapons systems and drive systems. DBA, the AWS 18 champion, uses a voltage regulator that supplied the drive with 6v, the weapon with 11v, and the receiver with 5v, thereby getting maximum power where they want it most.
Lithium Polymer Batteries
Lithium Polymer batteries, or 'Lipo's' are in common use in antweights because they can deliver a great deal of voltage at about a 5th of the weight of a Nickle Metal Hydride (NiMh) battery of the same voltage. F.I.N's battery used to be a NiMH weighing 25g, but his new Li-Po weights in at a measly 5g, but still delivers 6v of power. Li-Po's require special chargers that need a 12v supply, not a mains voltage supply (220v). Below is a picture of a Li-po battery. Links to where to purchase these are in the links section of this website